Community News
Subscribe to posts
Sandi Mercier trains for the Special Olympics World Summer Games at the YMCA of Brockville and Area on Tuesday. (JONATHON BRODIE/The recorder and Times)
The thing making Sandi Mercier's training most special is her dedication to it.
The 18-year-old's schedule reads almost like a professional athlete.
Monday is a personal yoga session.
Tuesday she works on strength training.
Wednesday is time for a little fun and she plays basketball.
Thursday is walking.
Friday consists of running at XTR Fitness and Sports Centre.
Saturday she gets to go bowling.
Truthfully, some of the coaches weren't sure if Mercier, who has a developmental delay and cerebral palsy, could even pull off the heavy training.
They couldn't have been more wrong. Mercier walks into every session decked out in her Reebok Canada gear, which was donated to her by the company, and a giant smile. That smirk rarely leaves her face throughout a session.
The training wasn't always this hard. It only stepped up after the TISS student qualified for the 100-metre dash and shot put events at the Special Olympics World Summer Games, which starts July 25 in Los Angeles.
"She's always participated, had a lot of fun and done her best and all that, but I never dreamed, quite frankly, she'd go as far as this," said Penney Place, Special OlympicsBrockville's track and field coach. "I didn't realize she had this perseverance and dedication."
Mercier earned her way to the world competition after collecting gold medals in shot put and the 50-metre dash at nationals.
Her work ethic is astonishing and, on the other side of the spectrum, her worry-free attitude might be helping her drive just as much. There's not much Mercier doesn't take in stride.
How does her physical disorders hinder her athleticism? "I have scoliosis in my back so it hurts, but other than that I just twist it and then goes back," Mercier said as she stretches her spine out. "All I have to do is go like that, it cracks and then it's good."
Where does she find the time and energy to do all her training? "I have no idea, but I do," she smiles.
Is she nervous for the World Games? "July is going to be a really busy month because the week before I leave I have to make sure I have everything ready and packed," she said, sports a complete afterthought in her answer.
"To do my best and have fun, meet new friends" is the sentence Mercier put in her Special Olympics Ontario profile when asked what she wanted to accomplish at the National Games.
There's something touching about Mercier's sentiment on what she considers a success. She trains as hard as she does not to win, but simply to be the best athlete she can possibly be. Stick to that formula and the wining follows, Mercier has proven that already by standing on top of the world one training session at a time.
Meeting new friends is the reason why Mercier signed up to Special Olympics in the first place, joining the group about five years ago. Currently the local organization has about 60 athletes involved in its programs.
There will be 7,000 athletes and 3,000 coaches at the World Games, so if Mercier keeps the same expectations she had at nationals then she'll be golden whether she wins or loses at her events.
Twitter.com/ @jonathonbrodie
Kanata Kourier-Standard
The Kanata Cup was filled with rhythmic gymnasts, from the youngest age division to the oldest, proudly performing their routines that took months of work.
Nothing was different for the gymnasts in the Special Olympics division, who performed their routines on the floor, one or two skipping the immediate exit from the competition area to run over to the coach on the other side of the floor to get a quick high five or a hug for a job well done.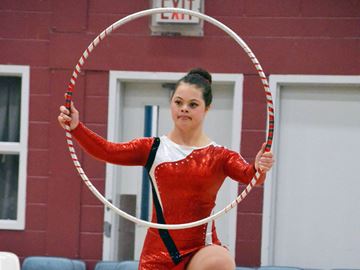 The Kanata Cup has featured the special division for several years. It isn't much trouble to incorporate the extra division said Kanata Rhythmic Sportive Gymnastics Club board member Cathy Smith. The Kanata club hosted the meet in Bridlewood on March 14 and 15.
Ottawa Rhythmic Spirals parent and coach Maia Pudifin said it's nice for the girls from the Special Olympics team to watch the routines in all the divisions.
"It's really the best because they learn by modelling," she said.
Pudifin's daughter, Sophie Anne Lacourse-Pudifin, a national team member, is integrated into training with the mainstream gymnasts at her club. She trains with her mother, as well as Spirals head coach Xinhong Jin.
Lacourse-Pudifin competed at nationals, and just missed winning the national title and qualifying for the world championships this year. Two Kanata Cup gymnasts, also national team members, are preparing for the Special Olympics World Championships in the summer. They didn't compete in the Special Olympics division, but instead were integrated later in the day with the other groups of competitors. 
Coach Bonnie Donovan, whose daughter Megan has been competing with the Rhythmic Cats club for 23 years, said it's a good experience for the girls she coaches to see the competition.
As it is for many sports clubs in Ottawa, meets often take place in Toronto and require a lot of travelling. But some of the Special Olympics athletes, who live in group homes, would have difficulty going to a competition in Toronto, Donovan said.
"Usually you've got to leave home (to compete)," she said. "So it's nice we get to come to something in Kanata."
The Rhythmic Cats train out of the Plante Recreation Centre.
Her athletes competed at a variety of levels, but all finished their routines with wide grins on their faces. Donovan stood on the side of the mat during several performances to give cues to the movements for the routines.
It was a successful event, and everyone was recognized with ribbons and medals to take home when the division wrapped up.
"It's an inclusive competition that includes all abilities," Pudifin said. "There should be more like it."
A few minutes later, her own daughter grinned from ear to ear and gave double thumbs up as she skipped her way over to the podium to have a gold medal placed around her neck.
By Adam Brazeau -Cornwall Seaway News
CORNWALL, Ontario - Over 80 young athletes with intellectual disabilities wore their team jerseys like a badge of honour at the Four Corners Provincial Bocce Qualifier in Cornwall on Friday.
© Adam Brazeau
North Dundas District High School Alex Noort competing at a Special Olympics high school bocce tournament at CCVS on Dec. 5, 2014.

Fourteen teams of students from seven high schools in Stormont-Dundas-Glengarry competed at Cornwall Collegiate and Vocational School, vying for an opportunity to advance to the Provincial School Championships to be held in May 2015, hosted by Special Olympics Ontario.
Cornwall Community Police Service (CCPS) officers were on site to cheer on the enthusiastic athletes. Their annual Law Enforcement Torch Run raises thousands for Special Olympics - the charity of choice of the Ontario Association of Chiefs of Police.
Alex Noort, 20, from North Dundas District High School launched a ball down the gymnasium's slick hardwood floor. Surrounded by colourful uniforms as his fellow classmates and teachers roared out in support, he returned to the bench after delivering a series of high-fives.
"My favourite part is playing," said Noort, who was diagnosed with down syndrome at an early age. "I can't wait for next year."
The bocce ball tournament is organized by Four Corners Youth Sports (a companion program of the Special Olympics) for students aged 13 to 21 who have an intellectual disability.
Colleen Vanturnhout, an educational assistant who works with Noort, proudly watched as several of his classmates from the Futures Program showed off all their training from gym class over the last few weeks.
"It's gets us out of the school, involved with the Special Olympics, and socializing with other kids who also have special needs," said Vanturnhout.
Every participant is given a ribbon at the closing ceremony. The results of the tournament will be announced in the upcoming weeks.
"We're getting students in special education programs out playing sports just like their mainstream peers do all the time; throwing on that jersey and feeling like a part of a team," said Kirsten Bobbie, program developer for secondary schools and competition for Special Olympics Ontario.
Brian Snyder, CCPS staff sergeant, co-chaired the non-profit, charitable organization's Provincial Games hosted by the Cornwall police in 1996.
"These events have struck a chord with many of our officers," said Snyder. "When they say thank you at the end of day it's so genuine and you can feel it."
Stacey McKeown, district developer for Special Olympics - Eastern Ontario, was there to expose all the options available for local residents, thanks to the Alexandria & Cornwall community group.
There are afterschool and weekend sports programs spots open as well as an active start program for ages 2 to 6 for fundamental sports activities through play with parents. The only cost is a nominal registration fee. Fundraisers throughout the year help pay for uniforms and equipment costs.
"We're definitely in need of volunteers a few hours a week for coaching or administrative duties," said McKeown.
She added that having previous experience with intellectual disabilities would be a benefit, but having a passion to help others will do just fine.
For more information, visit alexandria-cornwall.specialolympicsontario.ca.
 Category: Brockville & Elizabethtown/Kitley
 Created: Monday, 17 November 2014 09:08
 Written by Dale Elliott, EON News
The Brockville & Area Special Olympics hosted their "Breakfast with Champions" last Thursday morning at the Brockville Legion. - Photo By Dale Elliott EON News
Brockville - Over 150 attended the Brockville & Area Special Olympics'  "Breakfast with Champions" on Thursday morning at the Brockville Legion with proceeds from the event going to the Special Olympics program.

The breakfast was a celebration to recognize the time and effort the athletes devote to their sports and to honour those who have competed and will compete at the provincial and national levels. As well its an opportunity to introduce the athletes to the organization's friends and supporters in the community.
One of the athletes, Sandi Mercier spoke during the breakfast. She has been selected to TEAM CANADA and will be attending the World's Summer Games in Los Angeles in July 2015. This will be a first for a Brockville athlete.
The Brockville and Area Special Olympics Ontario had sixty-plus athletes registered in September for their sport programs. They will have an opportunity to participate in one or all of the weekly sports programs - Swimming, 10 Pin Bowling, Curling, Floor Hockey, Athletics (Track & Field), Softball, Basketball, and Nordic Skiing.
With the help of the many volunteers they are improving their sport program delivery and helping their athletes be successful and socially involved in their community.  
For more information on Special Olympics please visit: http://brockville.specialolympicsontario.ca/
For complete story, Including video visit  http://www.easternontarionetwork.com/index.php/news/local-news/brockville-elizabethtown-kitley/20729-brockville-area-special-olympics-ontario-hosted-their-annual-breakfast-with-champions-on-thursday-morning-video
Shoppers at the Cataraqui Centre were treated to a very special flash mob in centre court on Saturday when more than 25 athletes, coaches, parents and volunteers with the Kingston chapter of Special Olympics Ontario came from every direction and danced to Sara Bareilles' song Brave to promote acceptance and staying active. Julia McKay/The Whig-Standard
It took two months of planning and rehearsals and it was all over in less than five minutes, but it was so worth it.
When the Kingston chapter of Special Olympics Ontario's flash mob of more than 25 dancers finished, the packed levels in centre court at the Cataraqui Centre erupted in loud cheers, clapping and even a few tears.
"The point is to show the community how everyone is important and can contribute and be active together," said Mary Spencer, public relations team leader with local chapter and the flash mob organizer. "We wanted this to be an example of how everyone can participate. It gives us the chance to show (the community) what everyone can do together, regardless of abilities or background, and be active, which is a big thing."
The flash mob participants were a mix of Special Olympics athletes, parents, coaches and volunteers, all looking to promote getting active and bringing awareness to the Special Olympics.
The idea for the flash mob started with Spencer and fellow volunteer Nicole Gibbins.
"We were listening to the song Brave (by Sara Bareilles) on the radio, which is really fitting for Special Olympics because that's the motto of the whole thing, to let people be brave in their attempts at doing whatever it is they want to do," said Spencer.
After watching the Brave music video, which happens to have a flash mob theme to it, they figured that they could use that choreography.
"We've been practicing for two months," said Spencer. "Everyone showed up every week and were all excited and liked dancing and learning."
"(The flash mob) was wonderful," said Matthew Warren, one of the athletes who participated in the flash mob. "Everyone seemed so proud of me."
One of the goals of the Special Olympics is to "contribute to the physical, social and psychological development of people with intellectual disabilities through positive, successful experiences in sport."
"One of the misconceptions is that Special Olympics is this one time event or games but we're taking athletes all the time," said Spencer. "We have two main registrations for summer and winter sports."
The seasonal sports have weekly practices, tournaments and games, with some leading to provincial and national competitions.
The summertime sports include track and field, softball, rhythmic gymnastics, soccer, golf and many more.
Warren is one of two Kingston athletes who will be competing in Special Olympics National Summer Games in Vancouver next month.
Warren will be running in the track events, and Tara Pederson will be competing in swimming.
"I'm looking forward to beating my personal best," said Pederson.
"We always need more coaches and volunteers and people to participate regularly," said Spencer. "It can be a really rewarding thing to be a volunteer."
For more information or to become an athlete, volunteer or coach, visit kingston.specialolympicsontario.ca/
Special Olympics Offering New Sports Opportunities
Meghan Balogh
Napanee Guide


Special Olympics continues to 
offer sports opportunities to people with intellectual disabilities in the community.
They have been in the process of developing some new sports programs for younger athletes under the age of 18. There is indoor soccer for youth ages six to 18 on Sunday afternoons at the Memorial Community Arena, and a new program called FUNdamentals launches on Nov. 26 at the arena.
"It targets youth ages six to 12 years old, who would like to be introduced to sport and develop their skills to participate in Special Olympics," explained Aimee Burtch, a volunteer with Lennox and Addington Special Olympics. "The FUNdamentals program provides young athletes with a more in-depth introduction to sport-related motor skills, training, and competition, while maintaining an atmosphere of fun and meaningful interaction."
Other clubs are long-standing and as popular as ever.
Marilyn Elliott and her daughter Erin have been volunteering with Lennox and Addington Special Olympics for 12 years. They run the curling team, which meets on a weekly basis at the Napanee Curling Club.
Elliott also sits on the Lennox and Addington Special Olympics Councli.
"The curling club has been really good to us," said Elliott as the 14 members of the Special Olympics curling team prepared to practice. "They are very generous and donate their space for us, free of charge. And they're just so good to us. We've had bonspiels and members of the curling club have given up their time to come out and do the ice, put on a meal or snacks, and it's awesome. We're very fortunate."
Every year there is a special event with the Ontario Curling Association that Special Olympics curling teams across the province vie for.
"We compete in zones first and then go on," said Elliott. "The end goal is you get to curl in between the Men's Provincials. This year, there's also another competition because it's a qualifying year for the Provincial Games for Special Olympics. That's in February. We need to practice."
"I like it," said Joey Lowes, one of the Special Olympics athletes. "It's fun."
Elliott believes in the power of sports to provide some purpose and enjoyment in the lives of individuals who have intellectual disabilities.
"I think because it gives them a sense of team sport, and we're big on sportsmanship and camaraderie. It's become a social thing for them too.
Lennox and Addington Special Olympics are always looking for more participants and volunteers. Anyone interested in volunteering with the program, or registering an athlete, should contact Aimee at (613) 876-8934. For more information on how to register as an athlete in any of our other sports, or volunteer with a sport please contact us at lennox-addington@specialolympicsontario.ca or visit them on Facebook at www.facebook.com/SpecialOlympicsOntarioLennoxAndAddington.



Special Olympics Athletes Cici and Taylor (centre) joined Community Coordinator Kevin Payne (2nd left) and Past Chair and PROBUS Club member Dave Cavanaugh (left) in sharing about Special Olympics to over 80 PROBUS Club members on October 21, 2103. Thanks to Cici, Taylor, Kevin and Dave, PROBUS members now know more about Special Olympics Ontario programs in Brockville and how important it is to our athletes.

 

Great Picture Guys!
11th Annual Special Olympics Arnprior
Golf Tournament
Friday, July 12th 2013
Shot Gun Start 1:00 PM Sharp
Arnprior Golf Club
38 Golf Club Rd.
Sand Point, ON
Registration Includes:
18 Holes of Golf
Golf Cart
Buffet Dinner
Hole-in-One Contests to Win a GM Car and much more
Games and Prizes
Raffles and Silent Auction
Contact:    Gail Clark  613-623-3608
SOO Arnprior Fundraising Coordinator
Taken from Barry's Bay This Week:
Local Special Olympics athletes showed off their pride in their biggest numbers yet during the Law Enforcement Torch Run in Barry's Bay June 4.
Local police officers, as well as officers from around Ontario joined the athletes for the fourth year as they paraded down main street, carrying signs, a torch, and buckets to collect donations from people they passed.
Det. Sherry Jordan from the Ottawa Police Service noted the torch run is one of the major fundraisers of the year for Special Olympics, raising $1.4 million in Ontario alone last year.
The money helps support the athletes at events such as the summer games, which are coming up in Newmarket this July.
The Barry's Bay Special Olympics took a brief hiatus recently after being started about five years around by Melissa Gogolin, and so it isn't sending any athletes to the summer games, but it continues strong locally.
Nancy Parks, a member of the newly formed Barry's Bay Special Olympics council, credited Gogolin, who is no longer available to be involved, for starting the local group and for her continued determination in keeping it going.
"Melissa...was the founder and motivating force behind Special Olympics," she said. "She was determined and then it started to grow."
And grow it has.
The newly formed council has seven members and more athletes are getting involved.
This spring, the athletes played a shortened basketball season and also continued bowling in Petawawa with the Pembroke Special Olympics.
Horseshoes is starting up soon, running Tuesday evenings at 6 p.m. at the Legion in Barry's Bay.
Once basketball finishes at the end of the school year, the athletes will move on to soccer for the summer, running Thursdays at 4:30 p.m. at St. John Bosco Catholic School.
"Because of Melissa, people were already interested and motivated and things are starting to happen," Parks said.
Special Olympics provides year-round athletic training and competition for people of all ages with intellectual disabilities.
Locally, many parents see the value for their children.
Pam Richards's son Travis has participated for several years.
"All individuals with special needs, they're outcasts at schools when it comes to sports," she said. "So this gives them something to do and gives them self-esteem."
Parks, whose done Patrick is also a Special Olympics athlete, added the self-esteem and social aspects are some of the best parts of the program.
"Some people started so shy," she said, "and now they're running around."
Richards also said, "They've grown so much; it's really amazing."
And it's also rewarding for the volunteers.
"It's a worthwhile endeavour and it's fun," Parks said, adding there is never a week where everyone isn't smiling.
Since the program is so well received, events such as the torch run are very important since it helps ensure Special Olympics can run.
"It means visibility in the community and brings everybody all together," Parks said. "And the athletes look forward to it."
She and Richards noted their thanks to the police, as well as the community members and businesses that have continually supported Special Olympics.
Anyone interested in volunteering or joining Barry's Bay Special Olympics can contact Parks at 613-756-1681 or Richards at 613-756-9854.
"I think that's why it's expanding because it makes such a difference," Parks concluded.